eCommerce Center

Need online support, AKA esupport? Join the club!
What is eSupport?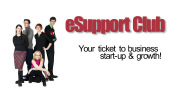 There was a time when the only way in which you could get in touch with a company was by paying them a visit. Then the growth of telecommunications opened the passage for customer support over the phone. Although convenient, there was scope for improvement in this channel of offering support to customers; also, the cost associated with phone support was considerably high.

Enter online customer relationship management. Today it is possible for you to render support over the internet. In fact, industry specifics have revealed that online support costs businesses just 25 cents as compared to the exorbitant $25 for a phone inquiry. And apart from the cost benefit, you can offer your customers 24/7 service through the use of eSupport.

What are the various options available to businesses as far as eSupport goes?

As a business owner, you have several options to choose from when offering your customers exceptional service. For example, you may choose to offer support in the form of Web self service. This type of support does not entail direct interaction with the customers. You will simply be offering the required information through online documents, FAQ lists and searchable databases.

For those of who would like to offer your customers personalized service, there is always the option where the consumer can have access to a customer service representative through support software like a Kayako.com help desk, or through email and eforms or Contact Us type forms.
Online chat is also a feasible option if you know that your customers would like to communicate directly with a service representative.

What type of eSupport should ideally be offered?

The answer to this question will entirely depend on the type of products and services that you offer and the expectations of your customers. Ideally, you should go for a combination of esupport services that fit in your budget as your company grows.

You can start by offering these services in a hierarchical order. To begin with, you can provide your customers access to static information. Then as you need to offer more support as your product and service lines grow, you can guide them towards interactive self-help options. If you want to offer more help down the road, then offer access to live interactive support. This way, you not only sort out and tackle the issues that your customers may have, offering them world-class service, but you also keep your costs to a minimum as your business grows.

How to use Web 2.0 technology for customer service, marketing, sales / affiliate marketing?

There are several ways in which you could use the power of Web 2.0 to offer your customers impressive service. Here is a look at the various options that you can explore.

1) Blogs and Social Media

You can incorporate a blog on your website or monitor the blogs related to your niche to keep a tab on what customers are saying about your company and products and the industry in general. This is a wonderful way to get a gist of customer sentiment and expectations.
Social Media is a very potent marketing tool. You can offer your customers information & support about your products and company through social networking sites like Twitter and Facebook. These channels also act as a powerful brand building machines.

2) Feedback, Testimonials & Case Studies

Encourage your customers to offer feedback and testimonials and case studies once they've used your products and services. These can be used in all types of marketing and promotions. For instance, when buying online, customers cannot see your products, so they may rely heavily on reviews. Hence make sure that your website has ample of reviews that give potential customers a clear idea about your products and services.

Hint: An astounding 77% of the online customers rely on reviews to make their purchasing decision. Forward thinking businesses can use this information to their benefit.


3) Sales / Affiliate Marketing

Use Web 2.0 to collaborate the efforts of your sales team so that they can work cohesively to maximize sales. For example, your sales force and affiliate marketers can Tweet, post on Facebook and interact in many other ways to help others learn about your products and services, attracting more leads, clicks and sales.

These are just a few of the ways in which you can use Web 2.0 to build in your marketing, sales and brand management efforts. Video and audio marketing offer other avenues, too.
Join the Club

Once you sign up for any of our programs or those at
Moving Ahead Communications
, you are immediately part of the eSupport Club Association. You benefit from:
1) Being part of a large group of people working towards the common good.
eSupport Association
: this group is for those who foster interest or take part in electronic support solutions, such as those offered via web-based or telecommunications avenues.
2) A downloadable Business Toolkit, Reports & other neat stuff to help with your business start up and growth for long term success. Check back regularly as more materials are added to keep you on track and up to speed.
3) eSupport Club specials, freebies, bonuses & more to help with your business start up and growth.