NEWS RELEASE
FOR IMMEDIATE USE
FOR MORE INFORMATION, CONTACT:
Travis Zdrazil  (800) 869-9633
PCI Products Company
Address 4195 Chino Hills Pkwy., #360
Chino Hills, CA 91709 United States
Email: info@absorbentsonline.com
Website http://www.cleanupstuff.com

Finally One Product with a Twofold Solution to Your Floor Problems
 "Prevent Permanent Concrete Stains and Protect the Environment at the Same Time"
Finally, there's no need to put up with unsightly garage floor stains and suffer embarrassing, messy floors any longer! Now, neither your garage floor nor your driveway has to bear those ugly permanent stains. Instead, a perfect solution is finally here.
If you want to finally see an end to messy oil, grime and other leaks on your garage floors and driveway, the Abzorb Oil Mat is just what you need. Just place the mat on the floor (or ground) under your car engine or other potential leaky / messy equipment, and voila!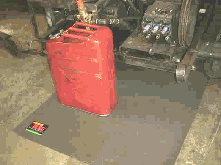 With ultra-absorbent properties, Abzorb Oil Mat soaks up to one gallon (3'x5' size) of messy spills, leaks, oil and other leaking fluids. The mat comes with a three-year guarantee, will not tear, crack, or leak, and will continue to lie flat without any curling or buckling. It boasts polypropylene, flame-resistant in its original state, is easy to use and easily installs with numerous time- and money-saving advantages. Additionally, its gray color helps conceal leaks.
"Nothing bothers me more than a messy garage floor," said V. Sheridan, Abzorb Oil Mat user in Oceanside, California. "And I (now) have no worries when I put your mats in place."
Made of technologically advanced material similar to what is used to clean-up oil spills on the ocean, the Abzorb Oil Mat boasts more than 24 household and office uses, including use as trunk liners, patio protection under BBQs, workbench cover, lawn equipment floor protection and pet food dish mats. The mat comes in a variety of sizes including 3'x 3', 3'x 5' and 3'x 8' for all budget ranges.
"Very good quality material, no harsh cleaning materials need to be kept for degreasing, etc." said B. Netzley, Abzorb Oil Mat user Madera, California. "Saves money; easy to use."
For more information and to order, contact PCI Products Co, 4195 Chino Hills Pkwy. #360, Chino Hills, CA. 91709. Phone (800) 869-9633. Additional product information and online ordering is available at http://www.cleanupstuff.com.
-30-