Compact Fluorescent Light Bulbs – CFL
By Amelia Yap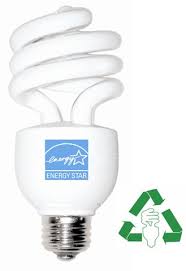 Every single home needs light and uses light bulbs and for the most part these can use up a considerable amount of power. There are alternatives. These alternatives include fluorescent light bulbs. Up until a little less than 20 years ago, there were no fluorescent based light bulbs that could be used inside a regular lamp. The only ones that were available where the long or short tubes that most people still think of as fluorescent lighting, compact fluorescent light bulbs however can provide your home with energy efficient lightening. These compact fluorescent light bulbs (CFL) can save you hundreds of dollars a year when it comes to your electric bill and in the process eliminate tons of green house gases. They also tend to last longer than traditional light bulbs making their price more affordable.
These compact fluorescent light bulb look like a mini fluorescent tube that has been bent and twisted into something similar to the size of a regular light bulb. They have a standard base allowing them to be used in the same socket as a regular light bulb, but it may be difficult fitting into a fixture due to it's height or width.
They are still difficult to dispose of because of the mercury so like regular fluorescent you do not just want to throw them in the trash. In Canada and the US, Home Depot has a compact fluorescent light bulb recycling program. Check online to see what is available in your city. The price has fallen over the years and since they can last longer than a regular bulb and take up considerably less energy while providing a cleaner and brighter light, they are well worth it.
The average life for compact fluorescent light bulbs is between 8-15 times greater than a standard incandescent light bulb. This means they are rated for between 6,000-15,000 hours. These lights are made to be left on for longer periods of time so keep this in mind when lighting your house. You can reduce a compact fluorescent light bulbs lifespan by 85% simply by turning it off within the first five minutes of operation. In order to prevent this leave the light on for at least 15 minutes. If you know, you have an area, which has shorter lighting time consider using regular light bulbs on these lighting areas.
Fluorescent light bulbs can create a great deal of benefit for you. They produce a cleaner more natural light as a result; they often appear brighter than regular lights. They take less energy to run making them safer for the environment even if they do need to be disposed of properly and cannot just be thrown away. You should consider the lighting situation before placing the light bulbs, as there are some fixtures, which may not have the room for these types of light bulbs. You can be on your way to saving not only the environment but also money and energy through the use of compact fluorescent light bulbs.
Amelia Yap is a mother who is very conscious about global warming and the future or our environment. She has made it her mission to educate others to go green, reduce their carbon foot print, and help save our environment.
You can download her FREE report, "Simple Ways to Go Green and See Green" to see how easy it is to go green and save money along the way.
Article Source: http://EzineArticles.com/?expert=Amelia_Yap